CNN's news cameras caught a masked woman in Ohio stuffing a ballot box on live TV during the 2020 Presidential Election, which CNN and other corporate media outlets claim was "safe and secure" and not riddled with unprecedented levels of fraud from both government officials and paid political hacks.
CNN's cameras were set up beside "the only ballot drop box in Cuyahoga County, Ohio" during early voting in the 2020 election, and captured a lone woman dumping a heaping handful of ballots that obviously belonged to a large group of people. There's at least one massive problem with this entire situation, considering that ballot harvesting is ILLEGAL in Ohio.
"You can see this woman right here, casting her vote," the correspondent told the cameras, before asking her if she'd voted for "Reagan or Carter," jokingly referring to the 1980 – not 2020 – Presidential Election.
"Carter!" the woman responded.
As CNN's cameras got a few steps closer to her, the huge pile of ballots in her hand was revealed, but the CNN correspondent said nothing as she dumped them into the drop box, instead playing it off like the entire situation was normal.
Watch the video footage below: 
CNN accidentally caught a lady stuffing a ballot box on live TV in 2020.

They went on to call it the most safe and secure election in history.

And if you have any questions, you are a dangerous threat to democracy. pic.twitter.com/erYE4Fdm15

— End Wokeness (@EndWokeness) November 3, 2023
Under Ohio election law, it appears that CNN caught the woman, who is apparently a Democrat considering her "Carter" response to CNN's 1980 election question, engaging in illegal ballot harvesting.
According to Ohio's laws surrounding ballot drop boxes, which were implemented all over the country as the uni-party used COVID to illegally change election laws and thrust the 2020 presidential race into chaos, "a registered voter may use this secure receptacle to deposit their absentee ballot or that of a close family member."
"Ohio law prohibits ballot harvesting. Anyone who possesses or delivers the absentee ballot of another person (unless a close family member), may be guilty of a Felony of the Fourth Degree, subject to a prison term of up to 18 months and/or a fine of up to $5,000."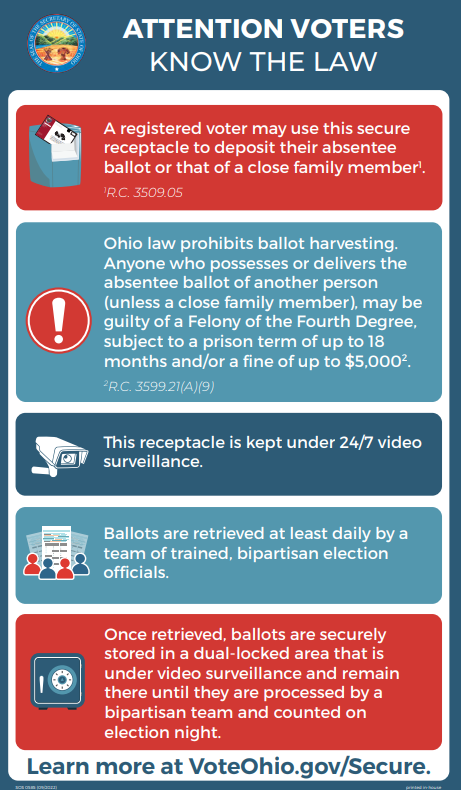 In Case You Missed It:
Certain Scientists, Journals Pose 'Potential Threats To Vaccine Confidence': CDC
Putin Says Western Nations Are 'Changing Tune' On Defeating Russia
For breaking news from one of the most over the target and censored names in the world join our 100% Free newsletter at
Newsletter
, The best way to get the information you want.
Also follow us at Gab
Follow us on Gab.com
, Like, comment, and subscribe.
Telegram
, Join our Telegram chat
Shop Patriot and Detox the Deep State by shopping with our sponsors.
Protect your future with ITM Trading
, If you haven't prepared for the collapse, you're out of time... BUY GOLD and SILVER NOW!
RedPillLiving.com
, Home of Sleepy Joe – the world's most powerful all natural sleep formula and The Great Awakening Gourmet Coffee for Patriots.
TheGreatAwakeningCoffee.com
, Gourmet Coffee for Patriots!
The Serapeum.com
, The Hidden History of Man & The Mystery Babylon Religion of The Deep State.