The same North Carolina school district where 7th graders are being taught how to "get off" as part of their reading list assignment is using a radical "Gender Support Plan" that changes kids' names, pronouns, and even restroom, while keeping their parents in the dark.
The Charlotte-Mecklenburg Schools' "Confidential Gender Support Plan" is a 5-page document with space to change a child's name and gender identity while plotting to keep their family in the dark. It even includes room to recommend sessions with the district psychologist and to prescribe attendance at gay "pride" events.
"The purpose of this document is to create shared understandings about the ways in which the student's authentic gender will be accounted for and supported at school," a statement at the top of the "Confidential Gender Support Plan" reads.
"School staff, caregivers, and the student should work together to complete this document. Ideally, each will spend time completing the various sections to the best of their ability and then come together to review sections and confirm shared agreements about using the plan."
Among the first pieces of information obtained in the document is whether or not the child's parents are "aware and supportive" of their "gender status."
"If not," the form goes on, "what considerations must be accounted for in implementing this plan?"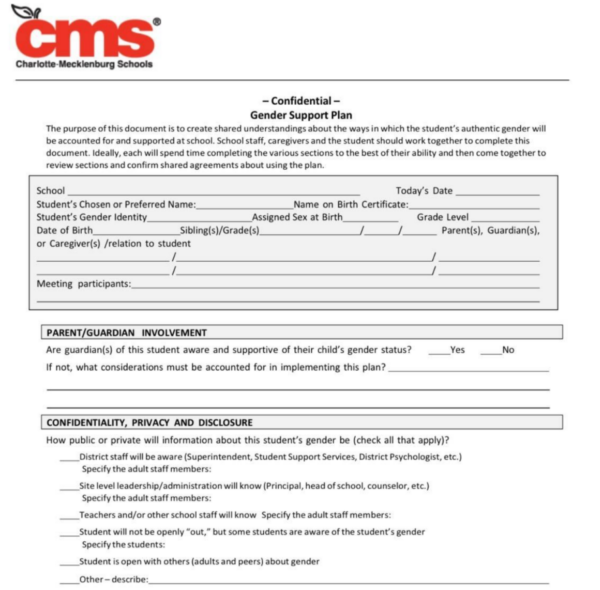 Charlotte-Mecklenburg Schools' "Gender Support Plan" appears to be part and parcel of a wider embrace of radical transgender policies in the district, and the introduction of sexuality into the classroom at an extremely young age.
The district has implemented some of the most radical pro-trans policies in the state, leaving the school to be the arbiter of what's best for kids, and not their own parents and family members. Without parental permission or notification, kids can use any restroom they want, change their names and pronouns, and even play on sports teams meant for kids of the opposite sex.
All those facets of Charlotte-Mecklenburg's radical transgender policies play directly into the "Confidential Gender Support Plan."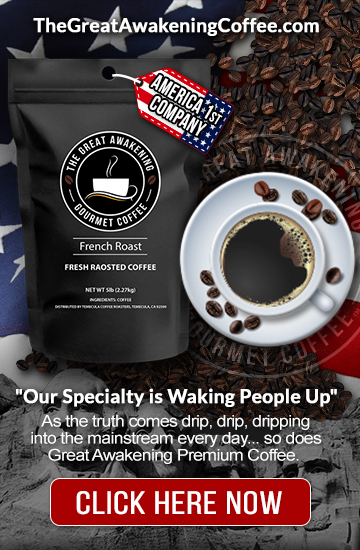 Recently, National File reported on another disturbing issue in Charlotte-Mecklenburg Schools, after 7th graders were told to read "This Book Is Gay" as part of their reading list assignment. The book offers detailed instructions on how to have gay sex.
In another instance in the school same school district, kids were exposed to the book after discovering it on a bookshelf in their classroom. School officials later defended the book, saying it belonged to the classroom's teacher and was a key part of harboring a "safe and inclusive environment."
At a recent Charlotte-Mecklenburg School Board meeting, local mom Christy Wade read excerpts from "This Book Is Gay" directly to school board members, blasting their inaction and promising that local parents will vote them out in the coming election cycle.
"Any teacher putting material like this on his or her bookshelf is either a bad teacher or a pedophile who grooms children," Wade told the board.
In Case You Missed It:
Kanye West Agrees in Principle to Buy Social Media Platform Parler
For breaking news from one of the most over the target and censored names in the world join our 100% Free newsletter at
Also follow us at Gab
Follow us on Gab.com
, Like, comment, and subscribe.
Newsletter
, The best way to get the information you want.
Telegram
, Join our Telegram chat
Shop Patriot and Detox the Deep State by shopping with our sponsors.
RedPillLiving.com
, Home of Sleepy Joe – the world's most powerful all natural sleep formula and The Great Awakening Gourmet Coffee for Patriots.
GreenPillLiving.com
, High Potency Full Spectrum CBD.
TheGreatAwakeningBooks.com
, Censored Books for Patriots.
TheGreatAwakeningCoffee.com
, Gourmet Coffee for Patriots!
The Serapeum.com
, The Hidden History of Man & The Mystery Babylon Religion of The Deep State.