Authored by Caden Pearson via The Epoch Times (emphasis ours)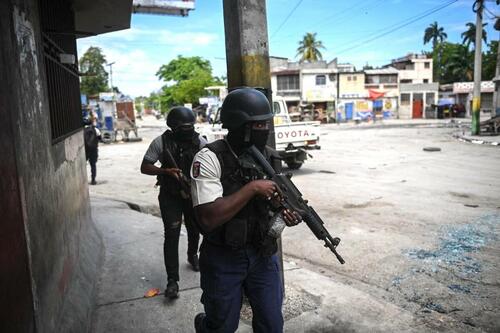 U.S. citizens in Haiti are urged to leave the Caribbean country immediately due to the recent surge in armed clashes between gangs and police.
The U.S. Embassy in Haiti and the Department of State issued a "Level 4" travel advisory on Thursday, categorizing Haiti as a "Do Not Travel" destination.
"On July 27, 2023, the Department of State ordered the departure of family members of U.S. government employees and non-emergency U.S. government employees," the agency said in an updated travel advisory.
"U.S. citizens in Haiti should depart Haiti as soon as possible by commercial or other privately available transportation options, in light of the current security situation and infrastructure challenges," the travel advisory continues.
U.S. citizens in the capital Port-au-Prince should monitor local news and depart only when it is safe to do so, the warnings read.
Specific neighborhoods, including Vivy Michel, Tabarre, Torcel, Tapage, and Trutier, have been deeply affected by the violent clashes, posing significant risks to residents and visitors.
The ability of the U.S. government to provide emergency services to its citizens in Haiti is currently extremely limited, raising concerns about their safety and well-being.
US Embassy Sounds Alarm
Kidnapping has become widespread in Haiti, with U.S. citizens frequently falling victim. Kidnappers often use sophisticated measures or take advantage of unplanned opportunities, even attacking convoys.
Violent crimes involving firearms, such as armed robberies, carjackings, and kidnappings for ransom, are common and pose risks to both residents and visitors.
"Kidnapping cases often involve ransom negotiations and U.S. citizen victims have been physically harmed during kidnappings," the agency said, adding that victim's families have paid thousands of dollars to rescue their family members.
Protests, demonstrations, tire burning, and roadblocks frequently occur in Haiti and can turn violent unexpectedly.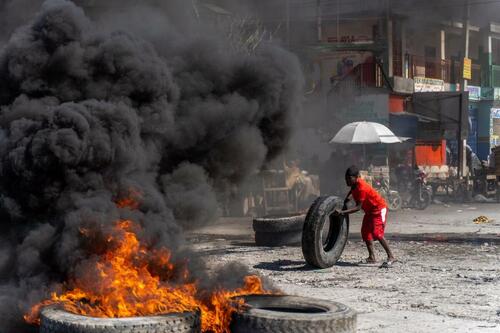 Critical shortages of gasoline, electricity, medicine, and medical supplies persist, further exacerbating the fragile situation in the country. Medical facilities lack qualified staff and basic resources.
Travelers have reported being followed and violently attacked shortly after leaving the Port-au-Prince international airport, while private vehicles stuck in heavy traffic congestion have been targeted by robbers and carjackers.
The situation has become so concerning that the U.S. Embassy in Haiti now mandates its personnel to use official transportation to and from the airport to mitigate risks.
Given the escalating security concerns, U.S. government personnel are strictly restricted within the confined area around the embassy and are prohibited from engaging in certain activities. They are forbidden from using any form of public transportation or taxis, visiting banks and using ATMs, driving at night, and traveling between 1:00 a.m. and 5:00 a.m.
Without prior approval and special security measures in place, U.S. government personnel are not permitted to travel, the agency said.
If encountering a roadblock, individuals are advised to turn around and seek refuge in a safe area. It is also crucial to have contingency plans in place for sheltering in a secure location or accessing airports, should the need arise.
The Smart Traveler Enrollment Program (STEP) is highly recommended for those still planning to travel to Haiti, as it enables them to receive important security updates and information from the nearest U.S. embassy or consulate.
To ensure personal safety while in Haiti, the State Department urges U.S. citizens to exercise extreme caution, avoid participating in demonstrations and large gatherings, and have contingency plans for sheltering in a secure location or accessing airports if needed.
The U.S. embassy in Haiti is available to provide assistance during emergencies.
In Case You Missed It:
Non-Human 'Biologics' Recovered From UFOs, Whistleblower Testifies
Bud Light To Lay Off Hundreds Of Employees In Wake Of Disastrous Pro-Trans Marketing
For breaking news from one of the most over the target and censored names in the world join our 100% Free newsletter at
Newsletter
, The best way to get the information you want.
Also follow us at Gab
Follow us on Gab.com
, Like, comment, and subscribe.
Telegram
, Join our Telegram chat
Shop Patriot and Detox the Deep State by shopping with our sponsors.
Protect your future with ITM Trading
, If you haven't prepared for the collapse, you're out of time... BUY GOLD and SILVER NOW!
RedPillLiving.com
, Home of Sleepy Joe – the world's most powerful all natural sleep formula and The Great Awakening Gourmet Coffee for Patriots.
TheGreatAwakeningCoffee.com
, Gourmet Coffee for Patriots!
The Serapeum.com
, The Hidden History of Man & The Mystery Babylon Religion of The Deep State.