Early Saturday morning, Elon Musk said his social media platform X will be "filing a thermonuclear lawsuit" against left-leaning non-profit Media Matters and "all those who colluded" for "completely misrepresenting" the real user experience on X.
"This week, Media Matters for America posted a story that completely misrepresented the real user experience on X, in another attempt to undermine freedom of speech and mislead advertisers," Musk said. 
Media Matters shared a report Thursday that showed "white nationalist and antisemitic conspiracy theories" content next to "ads for major brands like Apple, Bravo (NBCUniversal), IBM, Oracle, and Xfinity (Comcast)."
Musk outlined, "X has seen a number of attacks from activist groups like Media Matters and legacy media outlets who seek to undermine freedom of expression on our platform because they perceive it as a threat to their ideological narrative and those of their financial supporters."
He said these rogue groups are "trying to use their influence to attack our revenue streams by deceiving advertisers on X."
Musk detailed how the Media Matters' report was nothing but garbage: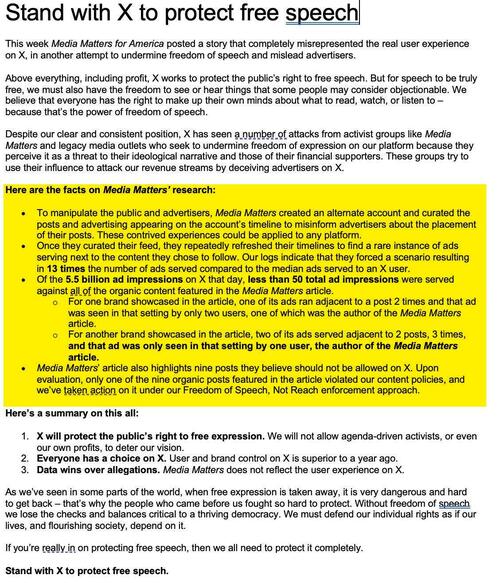 And this…
The discovery and depositions will be glorious to behold

— Elon Musk (@elonmusk) November 18, 2023
Earlier this week, Musk responded to an X post that criticized "Western Jewish populations" and said Jewish people were pushing "hatred against whites." He added, "You have said the actual truth."
As a result of the report, Apple, Disney, and IBM pulled ad spending this week.
On Thursday, X CEO Linda Yaccarino tried to calm concerns about the platform:
"When it comes to this platform — X has also been extremely clear about our efforts to combat antisemitism and discrimination. There's no place for it anywhere in the world — it's ugly and wrong. Full stop."
And Musk retweeted Ben Shapiro's nuanced explanation of the tweet-thread…
— Elon Musk (@elonmusk) November 18, 2023
Musk added the lawsuit will be filed "when the split second court opens on Monday," adding in a separate tweet that "many of the largest advertisers are the greatest oppressors of your right to free speech." 
In Case You Missed It:
UN & Bill Gates Launch "50in5" Global Digital Infrastructure Plans
New Email Shows Fauci Adviser Suggesting He Destroyed Records
For breaking news from one of the most over the target and censored names in the world join our 100% Free newsletter at
Newsletter
, The best way to get the information you want.
Also follow us at Gab
Follow us on Gab.com
, Like, comment, and subscribe.
Telegram
, Join our Telegram chat
Shop Patriot and Detox the Deep State by shopping with our sponsors.
Protect your future with ITM Trading
, If you haven't prepared for the collapse, you're out of time... BUY GOLD and SILVER NOW!
RedPillLiving.com
, Home of Sleepy Joe – the world's most powerful all natural sleep formula and The Great Awakening Gourmet Coffee for Patriots.
TheGreatAwakeningCoffee.com
, Gourmet Coffee for Patriots!
The Serapeum.com
, The Hidden History of Man & The Mystery Babylon Religion of The Deep State.