In light of the Biden White House approving cluster bombs for Ukraine, under the justification that 'but Russia used them first', below is a quick trip down memory lane…
First, here is then White House press secretary Jen Psaki unequivocally condemning the use of cluster munitions as a potential "war crime" in 2022. The implication behind the exchange is that only the "bad guys" use them…
BREAKING: Here is Jen Psaki in 2022 saying that using cluster bombs is a war crime

The Biden Admin is sending cluster bomber to Ukraine today pic.twitter.com/dSMKqumDm1

— Jack Poso 🇺🇸 (@JackPosobiec) July 7, 2023
Next, below is a lengthy letter from top-ranking Congressional Democrats in a 2013 written to then President Barack Obama highlighting the evils of cluster bombs, explaining they are "indiscriminate, unreliable and pose an unacceptable danger to US forces and civilians alike."
The letter emphasized they "cause unintended harm to civilians and civilian infrastructure, in many cases long after the cessation of hostilities," and also recalled that "During Operation Desert Storm, US-dropped cluster submutnions caused more US troops casualties than any single Iraqi weapon system."
Back when Democrats were outraged over cluster bombs and the potential for war crimes and indiscriminate killing…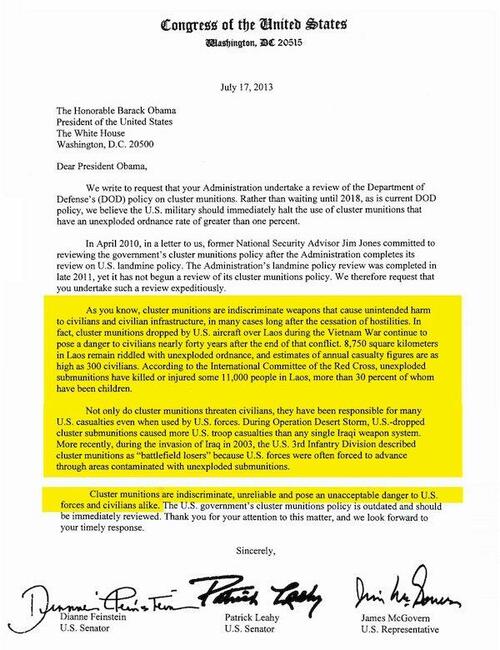 It's no wonder that key US allies in Europe are now objecting to the decision to supply Kiev with the internationally banned weapons.
"Germany opposes sending cluster munitions to Ukraine, its foreign minister said on Friday, a day after U.S. officials said Washington was planning to provide Kyiv with the weapons, widely denounced for killing and maiming civilians," Reuters reports. Foreign Minister Annalena Baerbock told reporters in Vienna: "I have followed the media reports. For us, as a state party, the Oslo agreement applies."
As for NATO leadership, Secretary General Jens Stoltenberg shrugged off reports that the US is set to announce cluster bombs for Ukraine. "This will be for governments to decide, not for Nato to decide," he said Friday. He essentially said that because Russia is already deploying them, this makes it okay for Ukraine to do the same.
https://twitter.com/DavidSacks/status/1677438533366161409?ref_src=twsrc%5Etfw
"We are facing a brutal war, and we have to remember this brutality is reflected, that every day we see casualties, and that cluster munitions are used by both sides," Stoltenberg sought to justify. "And Russia used cluster munitions to invade another country. Ukraine is using cluster munitions to defend itself."
In Case You Missed It:
Indian Tribe Demands America-Hating Ice Cream Commies Ben & Jerry's Return 'Stolen' Land HQ Built On
YouTube Censors Australian Politician's Maiden Speech To Parliament
For breaking news from one of the most over the target and censored names in the world join our 100% Free newsletter at
Newsletter
, The best way to get the information you want.
Also follow us at Gab
Follow us on Gab.com
, Like, comment, and subscribe.
Telegram
, Join our Telegram chat
Shop Patriot and Detox the Deep State by shopping with our sponsors.
Protect your future with ITM Trading
, If you haven't prepared for the collapse, you're out of time... BUY GOLD and SILVER NOW!
RedPillLiving.com
, Home of Sleepy Joe – the world's most powerful all natural sleep formula and The Great Awakening Gourmet Coffee for Patriots.
TheGreatAwakeningCoffee.com
, Gourmet Coffee for Patriots!
The Serapeum.com
, The Hidden History of Man & The Mystery Babylon Religion of The Deep State.