The Internal Revenue Service is warning Americans that they need to prepare to report transactions of at least $600 per year through 'third-party' payment processors such as Venmo and PayPal.
In a notice posted Tuesday to irs.gov, businesses and the self-employed are warned that cumulative income of at least $600 per year through apps – which also include Zelle and Cash App – will need to be reported on a tax form known as 1099-K, according to Marketwatch.
According to the agency, the notice is primarily aimed at part-time workers, those with side-gigs and people selling goods. It does not apply to non-commercial transactions such as reimbursing people, or one-off transactions such as selling old furniture, Marketwatch reports.
That said – considering that the 3rd party providers are going to start reporting transactions exceeding $600, how will the IRS know you're selling 'old furniture' versus, say, sweaters made out of cat hair on Ebay?
Before this year, the threshold for filing a Form 1099-K report was at least 200 transactions totaling an aggregate of at least $20,000.

When Congress passed the American Rescue Plan Act of 2021, it included a provision that reduced the reporting threshold to a single transaction over $600.

The Biden administration hopes that by reducing the threshold, the measure will crack down on Americans evading taxes by not reporting the full extent of their gross income. -MarketWatch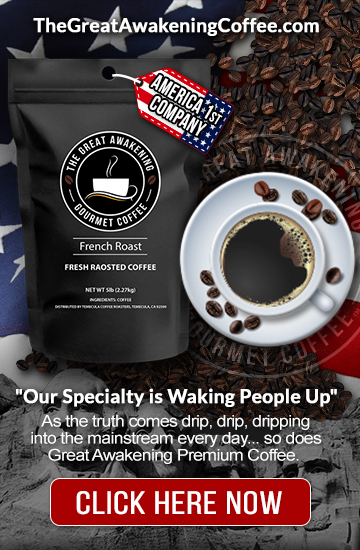 In short, this will undoubtedly raise taxes on people making under $400,000 per year.
In Case You Missed It:
1.8M Chickens Slaughtered In Nebraska As Bird Flu Pecks Away At Food Supply
Silent War Ep. 6273: Gay Terminator Bots, Vax'd See Demons B4 "Sudden Death" Brazil To Fight Coup!
For breaking news from one of the most over the target and censored names in the world join our 100% Free newsletter at
Also follow us at Gab
Follow us on Gab.com
, Like, comment, and subscribe.
Newsletter
, The best way to get the information you want.
Telegram
, Join our Telegram chat
Shop Patriot and Detox the Deep State by shopping with our sponsors.
RedPillLiving.com
, Home of Sleepy Joe – the world's most powerful all natural sleep formula and The Great Awakening Gourmet Coffee for Patriots.
GreenPillLiving.com
, High Potency Full Spectrum CBD.
TheGreatAwakeningBooks.com
, Censored Books for Patriots.
TheGreatAwakeningCoffee.com
, Gourmet Coffee for Patriots!
The Serapeum.com
, The Hidden History of Man & The Mystery Babylon Religion of The Deep State.