Senator Lindsey Graham (R-SC) is again calling on the United States to send tanks to Ukraine and warning that the "world order" is "at stake" should Ukraine's Soros-backed government not get what they want, after he made a trip with Democrats to Kiev for an in-person meeting with Volodymyr Zelensky.
"All three of us, one Republican and two Democrats, share the same goal for Ukraine," Senator Lindsey Graham posted to Twitter over the weekend, adding that he wants to "drive the Russians out of Ukraine," before renewing his calls to give heavy weaponry and American taxpayer money to the Ukrainians.
"To achieve that goal, the Ukrainian military needs tanks," Graham wrote.
In photos attached to the tweet, Senator Graham, who is regularly maligned by his constituents and others as a warmongering neocon, is standing next to Ukrainian President Volodymyr Zelenksy, as well as Democrat Senator Richard Blumenthal (who was caught lying about having served in Vietnam), and Democrat Sheldon Whitehouse (who was recently busted belonging to a segregated yacht club.)
As usual, Zelensky is pictured alongside the Senators in his typical sweatshirt attire.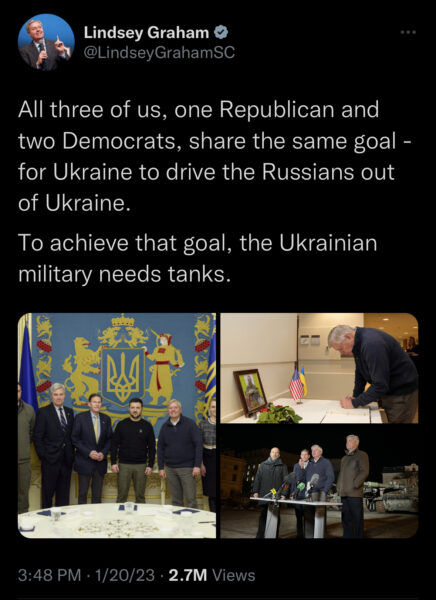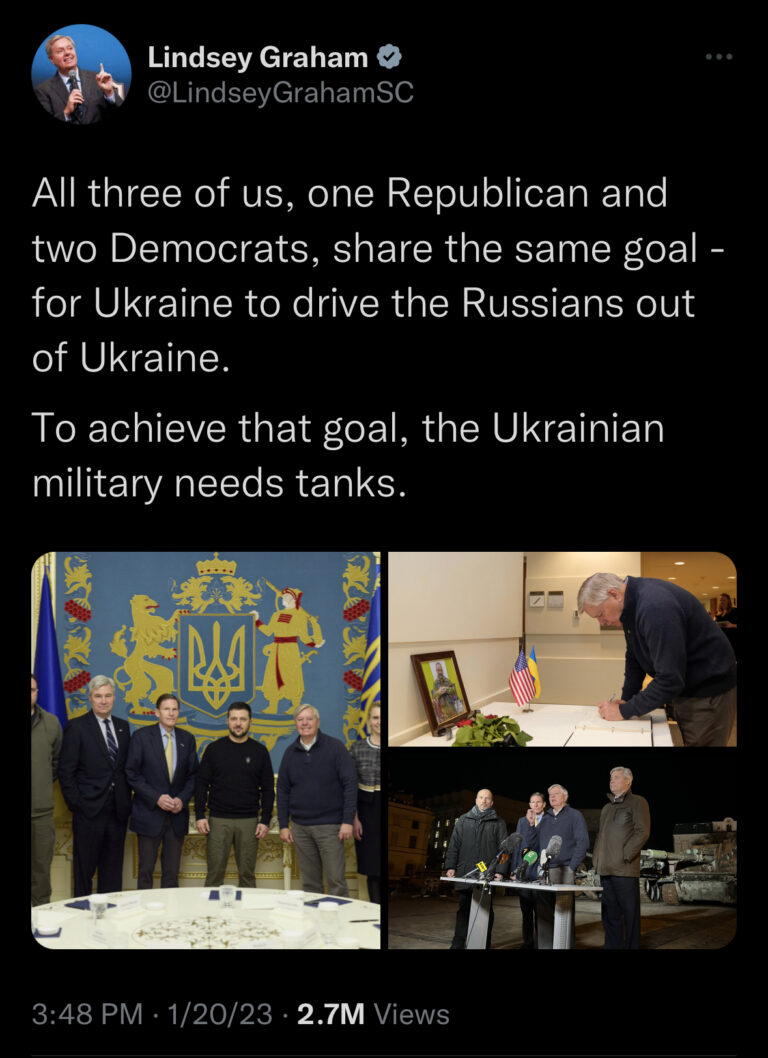 "I am tired of the s*** show surrounding who is going to send tanks and when are they going to send them," Graham continued in a subsequent tweet, claiming that "Putin is trying to rewrite the map of Europe by force of arms."
"[The] World order is at stake," Graham warned, letting slip the true motives behind the West's involvement in the Russo-Ukrainian War – to protect the globalism, and spread the "liberal democracy" so many Americans blame for the destruction of their culture and others across the Western World.
"To the Germans:" Graham wrote in yet another tweet he added to the thread, calling on both the United States and other nations to provide tanks to Ukraine.
"Send tanks to Ukraine because they need them. It is in your own national interest that Putin loses in Ukraine," Graham wrote, implying the ridiculous globalist talking point that Russia is going to take over half of Europe because they've opened military operations in contested regions of Ukraine – regions like Donbas, where the majority of the population speaks Russian and wants to join Russia.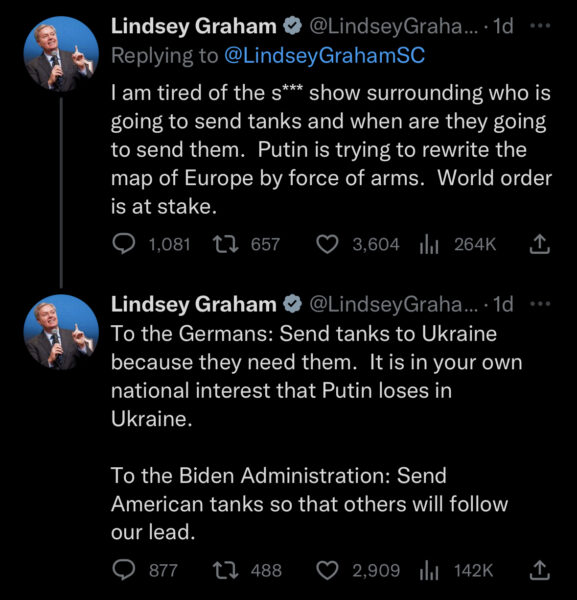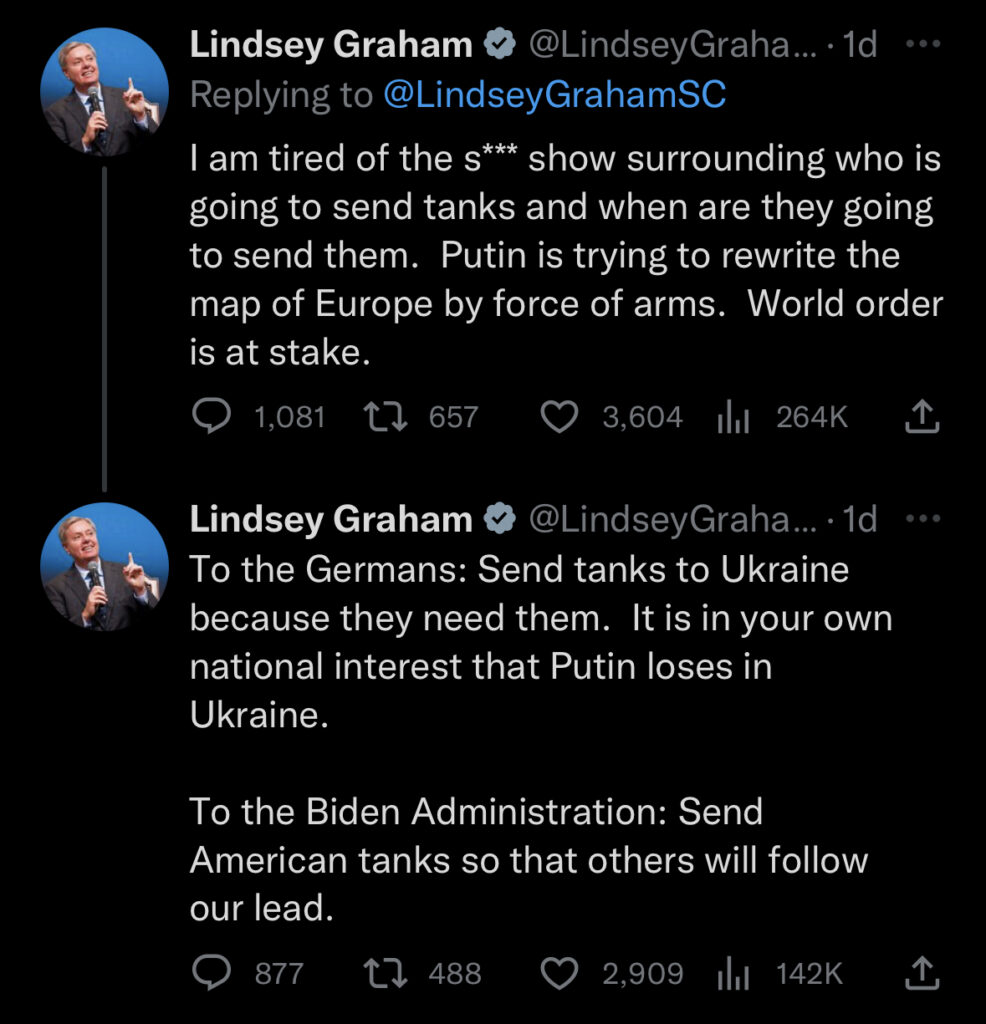 In Case You Missed It:
'Non-Binary' Child of House Minority Whip Was Arrested for Assaulting a Police Officer at Far-Left Protest
Unions Faltering: Nationwide Membership Rate Hits Record Low
For breaking news from one of the most over the target and censored names in the world join our 100% Free newsletter at
Newsletter
, The best way to get the information you want.
Also follow us at Gab
Follow us on Gab.com
, Like, comment, and subscribe.
Telegram
, Join our Telegram chat
Shop Patriot and Detox the Deep State by shopping with our sponsors.
Protect your future with ITM Trading
, If you haven't prepared for the collapse, you're out of time... BUY GOLD and SILVER NOW!
RedPillLiving.com
, Home of Sleepy Joe – the world's most powerful all natural sleep formula and The Great Awakening Gourmet Coffee for Patriots.
TheGreatAwakeningCoffee.com
, Gourmet Coffee for Patriots!
The Serapeum.com
, The Hidden History of Man & The Mystery Babylon Religion of The Deep State.