Following the same 'science' as the four Nordic nations that either banned completely or selectively, the FDA has decided to delay a decision on authorizing Moderna Inc.'s Covid-19 vaccine for adolescents to assess whether the shot may lead to heightened risk of a rare inflammatory heart condition, according to people familiar with the matter.
The Wall Street Journal reports that the FDA has been taking another look at the risk of the condition, known as myocarditis, among younger men who took Moderna's vaccine, especially compared with those who received the vaccine from Pfizer Inc. and BioNTech SE, the people said.
That decision has pushed MRNA shares lower…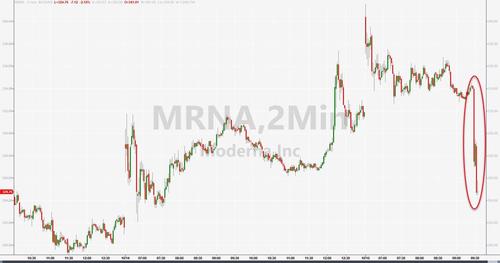 The delay could be several weeks, but the timing is unclear, one of the people said.
The agency plans to further review data before deciding on whether to extend the vaccine's eligibility to younger people, the people said.
Developing…
Moderna Slides After FDA Delays Youth Vaccine Decision Due To Heart Inflammation Issues