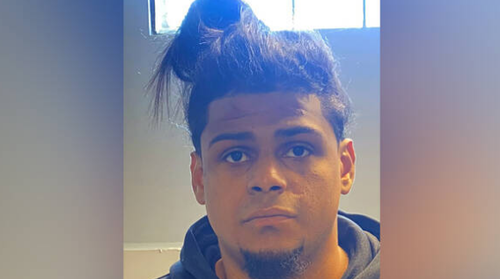 If we told you that a man accused of carrying $1.6 million in fentanyl in Pittsburgh didn't show up for his court date after being released on non-cash bail earlier this month, would you be surprised?
Us neither.
But that was precisely the case in Allegheny County, Pennsylvania, where 27 year old Carlos Pichardo Cepeda failed the appear for court. The New Yorker "is accused of carrying hundreds of thousands of fentanyl doses at a Pittsburgh bus station," according to Triblive.com.
Pichardo Cepeda was previously handed a nonmonetary bond by a district judge and released after his arrest. This past Tuesday was his second court date that he missed, the report says. Republicans are blaming the cashless bail while Democrats are placing blame on the DA's office dragging its feet in prosecuting the case.
Pichardo Cepeda was arrested August 31 at the Greyhound Terminal in Downtown Pittsburgh. He had 9 kilograms, or about 450,000 doses, of fentanyl on him with a street value of $1.6 billion.
His criminal history included seven prior arrests, two misdemeanor convictions and pending cases in New York for grand larceny and sexual assault.
Two district judges involved in his case, Xander Orenstein and Gene Ricciardi, stand on opposite ends of the political aisle, the report says. Orenstein granted him a nonmonetary bond but imposed electronic monitoring.
But such monitors can only be ordered by a Common Pleas Court judge. The arrested are usually held in jail until such cases can be transferred. That's where Judge Ricciardi came in, according to the report:
In the Pichardo Cepeda case, Orenstein believed the suspect would be held in jail until a decision about electronic monitoring was made, Asturi said.

Orenstein set the nonmonetary bail on Sept. 1. The next day, Allegheny County Jail staff approached District Judge Gene Ricciardi, who was presiding that day, for clarification of the bail condition, according to Asturi.

Asturi said Ricciardi then contacted Orenstein and received permission to review the electronic monitoring condition. Ricciardi then removed the electronic monitoring condition because district judges can't impose it, and Pichardo Cepeda was released.

Ricciardi did not read the criminal complaint and did not know the facts of the case at the time of release, Asturi said.
Joe Asturi, a spokesman for the court system, offered the following perfunctory take: "Court administration is reviewing procedures to provide safeguards to prevent another such occurrence."
In Case You Missed It:
Minnesota Murder Suspect Accidentally Freed From Jail 2 Days After Arrest
Cancers Appearing In Ways Never Before Seen After COVID Vaccinations: Dr. Harvey Risch
For breaking news from one of the most over the target and censored names in the world join our 100% Free newsletter at
Newsletter
, The best way to get the information you want.
Also follow us at Gab
Follow us on Gab.com
, Like, comment, and subscribe.
Telegram
, Join our Telegram chat
Shop Patriot and Detox the Deep State by shopping with our sponsors.
Protect your future with ITM Trading
, If you haven't prepared for the collapse, you're out of time... BUY GOLD and SILVER NOW!
RedPillLiving.com
, Home of Sleepy Joe – the world's most powerful all natural sleep formula and The Great Awakening Gourmet Coffee for Patriots.
TheGreatAwakeningCoffee.com
, Gourmet Coffee for Patriots!
The Serapeum.com
, The Hidden History of Man & The Mystery Babylon Religion of The Deep State.