Reports from Arab media indicate that the "Galaxy Leader," a vehicle carrier vessel, was hijacked in the Red Sea on Monday by the Houthi group, which is supported by Iran, as reported by The Jerusalem Post.
An Israeli ship named "Galaxy Leader" was hijacked by Yemen's Houthi rebels in the Red Sea on Monday, according to Arab media.#Israel | #Houthi | #Yemen https://t.co/5Ai3Q32Tqf

— The Jerusalem Post (@Jerusalem_Post) November 19, 2023
The Galaxy Leader was last seen in the Red Sea (Position: 19.88°(lat) /38.84°(Ion)). The ship is underway, cruising at 17.5 knots.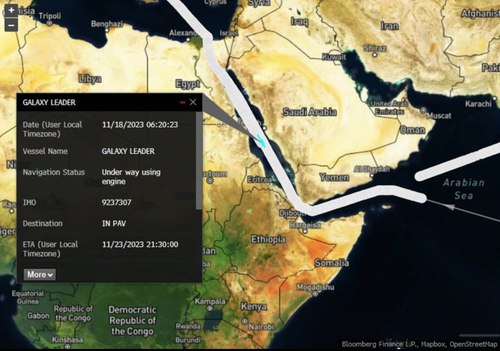 Additional info on the vessel.

Some X users are saying the vessel is an Israeli-owned ship.
Initial, unconfirmed reports that #IRGCterrorists-backed #Houthis have hijacked the Galaxy Leader vessel with 22 people on board. Follows Houthi threats over the last 24 hours to target #Israel-linked ships. https://t.co/XIFOxsggcz pic.twitter.com/JJuvfoTc5K

— Jason Brodsky (@JasonMBrodsky) November 19, 2023
🇾🇪🇮🇱🚨‼️ BREAKING: The Houthis in Yemen hijacked an "Israeli cargo ship" called "Galaxy Leader" sailing in the Gulf. There are said to be 22 crew members on board the ship. — Israeli Media

Also the spokesman for the Yemeni Armed Forces: An important statement in the coming hours pic.twitter.com/ZQnmN3Dh1H

— Lord Bebo (@MyLordBebo) November 19, 2023
We have reported multiple Israeli-owned vessels have been attacked in 2023:
*Developing… 
In Case You Missed It:
Cheney, Kinzinger, And "Sham" J6 Committee Under Fire After Friday Footage Dump; GOP Senator Calls For Investigation
Rep. Jordan Subpoenas Bank Of America Over Allegedly Sharing Jan. 6 Info With FBI
For breaking news from one of the most over the target and censored names in the world join our 100% Free newsletter at
Newsletter
, The best way to get the information you want.
Also follow us at Gab
Follow us on Gab.com
, Like, comment, and subscribe.
Telegram
, Join our Telegram chat
Shop Patriot and Detox the Deep State by shopping with our sponsors.
Protect your future with ITM Trading
, If you haven't prepared for the collapse, you're out of time... BUY GOLD and SILVER NOW!
RedPillLiving.com
, Home of Sleepy Joe – the world's most powerful all natural sleep formula and The Great Awakening Gourmet Coffee for Patriots.
TheGreatAwakeningCoffee.com
, Gourmet Coffee for Patriots!
The Serapeum.com
, The Hidden History of Man & The Mystery Babylon Religion of The Deep State.