Congressional Republicans are crying foul over the double standard applied to President Biden's mishandling of classified materials vs. the treatment former President Trump received.
To review, President Biden's lawyers – who didn't have clearance to view classified documents, allegedly stumbled upon a cache of them at his old office at the Penn Biden Center on Nov. 2, 2022, the day before midterm elections. After waiting nearly two months, more documents were found on December 20, January 9 and January 12 – the date on which AG Merrick Garland finally appointed a special counsel to investigate.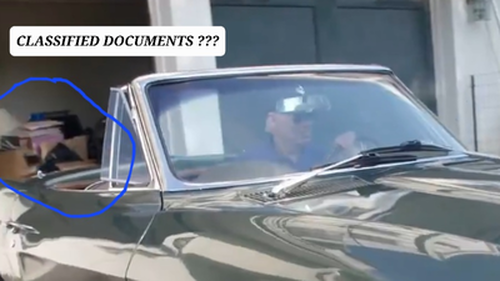 Trump, on the other hand, who has a potential constitutional argument that he could have declassified the documents recovered from his locked safe at his highly surveilled Mar-a-Lago residence, was treated to a raid by Biden's DOJ
"Where's the raid of Biden's garage?" asked House Majority Leader Steve Scalise (R-LA).
There's always a double standard. @FBI, where's the raid of Biden's garage?

— Steve Scalise (@SteveScalise) January 12, 2023
"Now, we learn that Biden kept additional classified materials at his home in Delaware in his GARAGE. Yet there was no raid. No ransacking of Biden's home. Nothing," Rep. Dan Crenshaw tweeted, trying to get back in MAGA's good graces.
House Speaker Kevin McCarthy (R-CA) called the situation "another faux pas by the Biden administration," by "treating law differently based upon your political beliefs."
"That's why we had to provide a new entity from our Church-style [committee] to look after the weaponization of what's gone on that you want an equal playing of the law to all Americans."
McCarthy also pointed out the fact that officials have not released any photos of the documents recovered from Biden's office and home. The Justice Department included a photo of materials retrieved from Trump's residence in a court filing that was made public. –The Hill
"More classified documents Biden took from the Obama White House have been found at Biden's Delaware house next to his Corvette. Biden assures the public it's OK because his garage is locked… So, when's the FBI raid?" said Rep. Darrell Issa (R-CA) in a Thursday tweet.
Trump was also 'raided' by the media, so to speak.
.@jheil: "Despite the possible political ramifications … the right decision on that is going to be you can't let this go … you can't let it go without accountability." pic.twitter.com/AvBqqQ0Rtx

— Tom Elliott (@tomselliott) January 16, 2023
.@MilesTaylorUSA: "This is a big national security concern … It is very likely the ex president will be indicted. After the indictment … I worry that if the Republicans will retake the House and Senate, they will try to find a way to give the ex-president amnesty." pic.twitter.com/Rc1TLaQ8uI

— Tom Elliott (@tomselliott) January 16, 2023
And crickets over Biden aside from scant cardboard reporting on the matter.
In fact, CNN's Jake Tapper is earning his paycheck carrying water for the regime:
CNN asks Comer, who's trying to make a big deal out of Biden's handling of classified documents, to explain a clip of him saying last November that investigating Trump's mishandling of classified docs is "not a priority" for him pic.twitter.com/jaGSbnC4Ew

— Aaron Rupar (@atrupar) January 15, 2023
Meanwhile, House Oversight Chairman James Comer (R-KY) has sent letters to the National Archives and the White House Counsel's office requesting documents and communications pertaining to the classified materials, along with a request for information about the documents themselves and who may have been able to access them.
And Rep. Mike Turner (R-OH), the top GOP member of the House Intelligence Committee, sent AG Garland and DNI Avril Haines a request for a classified briefing about the documents.
In Case You Missed It:
All The President's Men: Biden's Use Of Lawyers Raises Additional Concerns Over Handling Classified Material
For breaking news from one of the most over the target and censored names in the world join our 100% Free newsletter at
Also follow us at Gab
Follow us on Gab.com
, Like, comment, and subscribe.
Newsletter
, The best way to get the information you want.
Telegram
, Join our Telegram chat
Shop Patriot and Detox the Deep State by shopping with our sponsors.
RedPillLiving.com
, Home of Sleepy Joe – the world's most powerful all natural sleep formula and The Great Awakening Gourmet Coffee for Patriots.
GreenPillLiving.com
, High Potency Full Spectrum CBD.
TheGreatAwakeningBooks.com
, Censored Books for Patriots.
TheGreatAwakeningCoffee.com
, Gourmet Coffee for Patriots!
The Serapeum.com
, The Hidden History of Man & The Mystery Babylon Religion of The Deep State.