"Died Suddenly," a new investigative documentary from Stew Peters and his mega-viral Stew Peters Network, will premiere today at 5:00 PM Eastern Time, exclusively on the Stew Peters Network.
The third feature-length documentary film from the Stew Peters Network, "Died Suddenly" goes in-depth to expose the death jab genocide of COVID-19 and its "vaccines," and to investigate those behind the carnage that has flipped the world upside down, and forever altered the paths of generations yet to come.
In the era of COVID jabs, "died suddenly" has become the most commonly used term in obituaries, in "vaccinated" populations worldwide, as mass die-offs take root.
Throughout the film, Peters sits down with the victims of COVID jabs and their families, bringing to light the hideous and oftentimes lethal side effects of the jabs forced upon humanity by Big Pharma and their government allies. A truth that's been actively suppressed, but that Stew Peters and his network continue fighting to expose.
A nationally-syndicated TV and radio news host, Stew Peters has been at the forefront of the fight against COVID lockdowns and death jab tyranny, championing the cause of medical autonomy on his national platform, giving a voice to those who, in many cases, have literally lost theirs to Big Pharma.
"This is the film of our generation," Peters wrote in a Gab post that included the "Died Suddenly" film's mega-viral trailer.
When the trailer was released last month, it went massively viral, breaking through left-wing censors to trend on Twitter thanks to popular demand.
In his post, Peters urged his Gab followers to share the film's trailer "for the sake of our kids; for HUMANITY."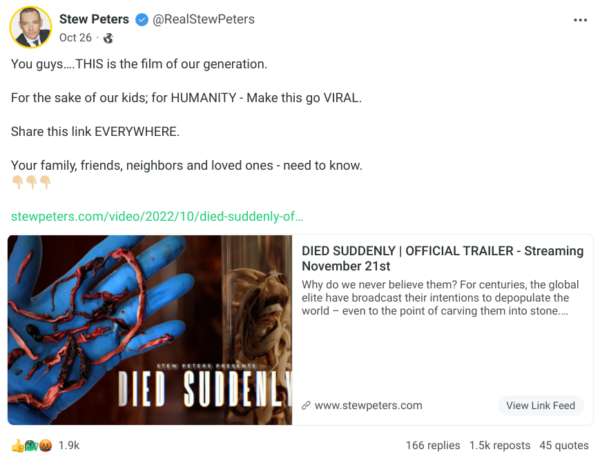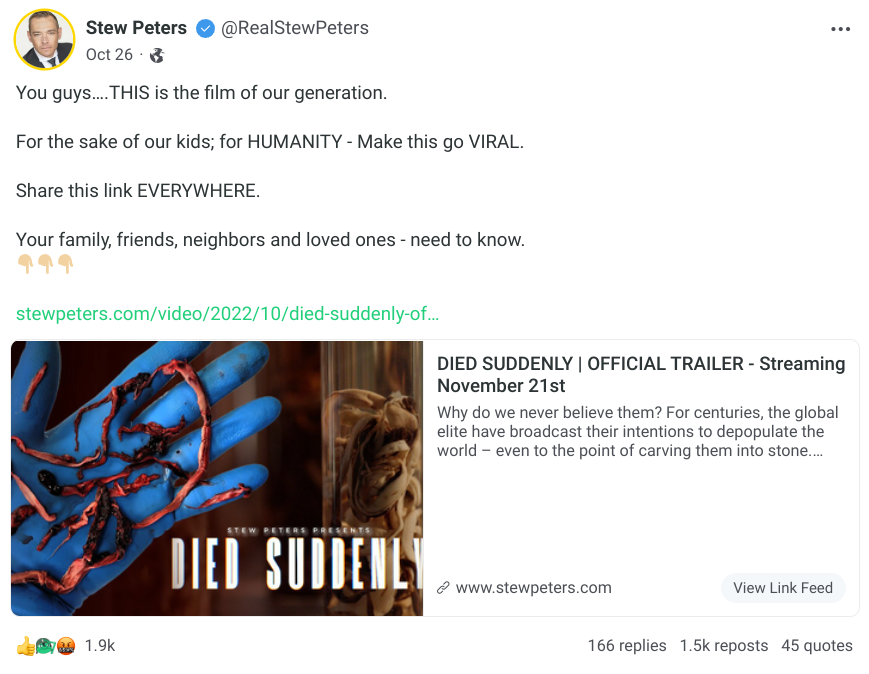 In Case You Missed It:
9-12 More Months: How Long US Consumers Have Before The Bottom Falls Out
REVEALED: Wife Of DOJ Special Counsel Leading Trump Investigation is Biden Donor, Produced Michelle Obama Documentary
For breaking news from one of the most over the target and censored names in the world join our 100% Free newsletter at
Also follow us at Gab
Follow us on Gab.com
, Like, comment, and subscribe.
Newsletter
, The best way to get the information you want.
Telegram
, Join our Telegram chat
Shop Patriot and Detox the Deep State by shopping with our sponsors.
RedPillLiving.com
, Home of Sleepy Joe – the world's most powerful all natural sleep formula and The Great Awakening Gourmet Coffee for Patriots.
GreenPillLiving.com
, High Potency Full Spectrum CBD.
TheGreatAwakeningBooks.com
, Censored Books for Patriots.
TheGreatAwakeningCoffee.com
, Gourmet Coffee for Patriots!
The Serapeum.com
, The Hidden History of Man & The Mystery Babylon Religion of The Deep State.