Mayors from New York, Chicago, and other large cities are struggling with resources, blaming Texas, as illegal immigrants move in en masse.
Prior to being elected mayor of New York City in 2021, Eric Adams' campaign posted on Twitter, now known as X, "We should protect our immigrants. Period. Yes, New York City will remain a sanctuary city under an Adams administration."
Less than two years later, now-mayor Adams is suggesting the influx of illegal immigrants will "destroy New York City."
"Let me tell you something, New Yorkers. Never in my life have I had a problem that I did not see an ending to. I don't see an ending to this. … This issue will destroy New York City," Mr. Adams said on Sep. 6, during a town hall meeting on the Upper West Side. "We're getting 10,000 migrants a month."
Texas Gov. Greg Abbott, a Republican, began busing illegal immigrants to several large U.S. cities, known as "sanctuary cities," beginning in April 2022 to alleviate border cities in his state. And although only a fraction of the illegal immigrants arriving in New York City are arriving on Mr. Abbott's buses, Mr. Adams has called the program "morally bankrupt."
A jurisdiction is dubbed a sanctuary because it has enacted policies that shield illegal immigrants, including criminals, from federal immigration authorities and deportation.
The cities Mr. Abbott chose as his busing program recipients are among the 10 "largest sanctuary cities in the United States," according to the Federation for American Immigration Reform (FAIR).
As of Sept. 8, Mr. Abbott's office reported it had bused more than 11,300 illegal immigrants to Washington since April 2022; more than 13,500 to New York City and more than 7,000 to Chicago since August 2022; and more than 2,600 to Philadelphia since November 2022.
This year, Texas started busing illegal immigrants to Denver and Los Angeles. Denver has received around 1,100, and Los Angeles around 480.
Border Patrol agents have apprehended 1,973,092 illegal immigrants along the southwest border in the past 11 months, according to Customs and Border Protection (CBP) data.
More than 1 million of those crossed into Texas.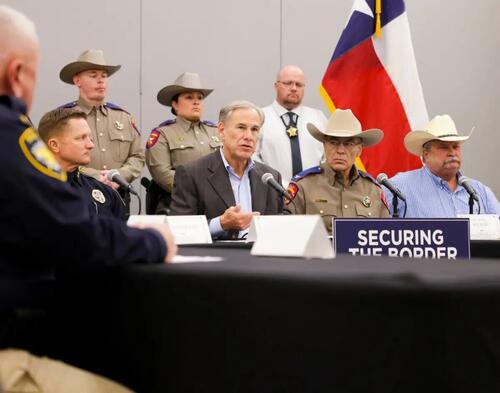 In response to the border surge in 2021, Mr. Abbott launched his Operation Lone Star border security initiative in March 2021. The governor deployed troops from the Texas National Guard and the Texas Department of Public Safety to the southern border, increased funding for border security, designated Mexican drug cartels as foreign terrorist organizations, and started his busing program the following year.
"The crisis at our southern border continues to escalate because of Biden administration policies that refuse to secure the border and invite illegal immigration," Mr. Abbott said in a press release at the time.
"Texas supports legal immigration but will not be an accomplice to the open border policies that cause, rather than prevent, a humanitarian crisis in our state and endanger the lives of Texans."
Cities Cry Foul
On Aug. 9, Mr. Adams said the influx of illegal immigrants to New York City has led to an "unprecedented state of emergency." The city cited the lack of work authorization as one of the problems with "asylum seekers."
"They do not have the authorization to work, so we have to provide shelter. We have supplied food and access to healthcare. We have enrolled children in schools. We have opened almost 200 emergency sites, including more than a dozen large-scale humanitarian relief centers. And we have assisted migrants with asylum applications," Mr. Adams said
"But we are past our breaking point. … For each family seeking asylum through the city's care, we spend an average of $383 per night to provide shelter, food, medical care, and social services. With more than 57,300 individuals currently in our care, on an average night, it amounts to $9.8 million a day, almost $300 million a month, and nearly $3.6 billion a year," he said.
On May 9, the state's Democratic Gov. Kathy Hochul declared a state of emergency over the influx.
In reaction to Mr. Abbott sending 42 illegal immigrants to Los Angeles on June 14, the Los Angeles City Council on Aug. 30 unanimously approved two motions to file against Mr. Abbott and Texas.
The first motion states, "Investigate and report on whether human trafficking, kidnapping, or any other crime was committed on or before June 14, 2023, when Governor Greg Abbott of Texas sent 42 migrants from McAllen, Texas, to Los Angeles, California."
The second states, "Investigate and begin proceedings on any potential civil legal action that could be taken against the State of Texas, Governor Greg Abbott, or any other entity relating to planning and actions of June 14, 2023. "
Before the vote, LA City Council member Hugo Soto-Martínez stated, "These motions are about investigating whether Gov. Greg Abbott committed kidnapping, human trafficking or any other crimes when he sent vulnerable families on a 23-hour bus ride with little or no food or water.
"The competition between these Republicans about who can be the most racist, I think, is just an utter failure and shows, clearly, that they do not have any intention of governing effectively."
When reached for comment about the motions, the southern border, and illegal immigrants, Josue Marcus, an employee with the LA city clerk's office told The Epoch Times via email that the city clerk's office "cannot comment on these matters."
The LA Mayor's office didn't respond to The Epoch Times' request for comment.
As with New York and LA, the City of Chicago calls itself a "welcoming city" to "asylum seekers."
"We have a responsibility to provide access to shelter, food, and medical care to everyone, regardless of immigration status," the city website states.
"Many of our new arrivals have walked hundreds of miles, navigating great danger through multiple countries in pursuit of safety and opportunity in the United States. We are committed to assisting each family and individual, providing human services with respect and dignity."
However, after receiving about 8,000 illegal immigrants via Mr. Abbott's bus program, then-Democrat mayor Lori Lightfoot pushed back.
"We simply have no more shelters, spaces, or resources to accommodate an increase of individuals at this level," Ms. Lightfoot wrote in a letter to Mr. Abbott.
"Though I am sympathetic to the significant challenges that border cities face, this situation is completely untenable. The national immigration problem will not be solved by passing on the responsibility to other cities."
Mr. Abbott responded to Ms. Lightfoot on May 1, "As the mayor of a self-declared sanctuary city, it is ironic to hear you complain about Chicago's struggle to deal with a few thousand illegal immigrants, which is a fraction of the record-high numbers we deal with in Texas on a regular basis," Mr. Abbott wrote.
"You are right that 'this situation is completely untenable,' but this is not a Texas problem—this is a problem for the entire United States of America. … Until Biden secures the border to stop the inflow of mass migration, Texas will continue this necessary program."
Ms. Lightfoot issued a Declaration of Emergency on May 9.
Neither Chicago's City Council nor the mayor's office responded to The Epoch Times' request for comment.
On Aug. 28, Chicago's new mayor, Brandon Johnson, and Illinois' Democratic Gov. JB Pritzker wrote a letter to Department of Homeland Security (DHS) Secretary Alejandro Mayorkas stating that the City of Chicago had spent over $250 million supporting asylum seekers, and requested DHS to streamline work authorization for "non-citizens."
As with other sanctuary cities, the arrival of buses from Texas to Washington, D.C., met with resistance.
A representative from Washington Mayor Muriel Bowser's office wrote to the Secretary of Defense on July 19, 2022, requesting the assistance of the National Guard to "help prevent a prolonged humanitarian crisis" in the nation's capital.
"The pace of arriving buses and the volume of arrivals have reached tipping points. Our collective response and service efforts have now become overwhelmed: the regional welcome center we helped establish in Montgomery County, Maryland, is at capacity; our homeless services system is already under great strain," the mayor's office wrote, according to an NBC reporter, who posted the letter on X.
"With pledges from Texas and Arizona to continue these abhorrent operations indefinitely, the situation is dire, and we consider this a humanitarian crisis—one that could overwhelm our social support network without immediate and sustained federal intervention."
The Department of Defense declined to provide support. It also declined when Ms. Bowser again requested help on July 22 and Aug. 11, 2022.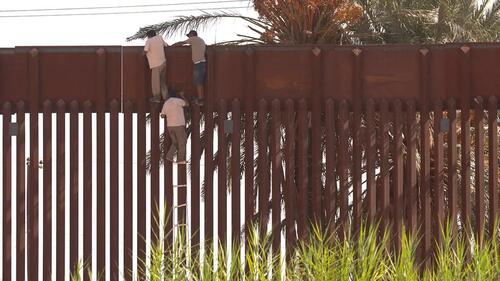 In Case You Missed It:
Senators Acquit Texas Attorney General Ken Paxton on All 16 Articles of Impeachment – PAXTON CLEARED ON ALL CHARGES
"Close The Freaking Border!" – Angry New Yorkers Shout-Down AOC & Nadler Over Immigrant Crisis
For breaking news from one of the most over the target and censored names in the world join our 100% Free newsletter at
Newsletter
, The best way to get the information you want.
Also follow us at Gab
Follow us on Gab.com
, Like, comment, and subscribe.
Telegram
, Join our Telegram chat
Shop Patriot and Detox the Deep State by shopping with our sponsors.
Protect your future with ITM Trading
, If you haven't prepared for the collapse, you're out of time... BUY GOLD and SILVER NOW!
RedPillLiving.com
, Home of Sleepy Joe – the world's most powerful all natural sleep formula and The Great Awakening Gourmet Coffee for Patriots.
TheGreatAwakeningCoffee.com
, Gourmet Coffee for Patriots!
The Serapeum.com
, The Hidden History of Man & The Mystery Babylon Religion of The Deep State.