Brazilian processor Marfrig Global Foods SA warned the US cattle herd will continue shrinking through the midpoint of the decade. Less supplies will pressure meatpackers and keep the prices of steak and hamburgers at elevated levels.
During a conference call, Tim Klein, the head of Marfrig's North American operation, explained the availability of fattened animals for meatpackers to slaughter and process should trough between 2025 and 2026. He said this is because ranchers have not yet started keeping cows for breeding.
As we've noted, years of drought and high feed costs forced ranchers across the Midwest to send the cows to slaughterhouses, leading to a sharp reduction in the nation's overall herd size. In January, the beef cow herd size was the smallest since 1962.
Tight supplies of cattle have hurt the profits of meatpackers, including Tyson Foods Inc. and JBS SA: 
National Beef Inc., Marfrig's US unit, saw adjusted earnings before items such as taxes and interest more than halve in the third quarter from a year ago to $150 million, according to a statement from the company on Monday. Tyson Foods Inc. and JBS SA posted results earlier that were largely affected by lower profits in their US beef operations. -Bloomberg 
Declining cattle numbers also sent US beef prices at the supermarket to record highs.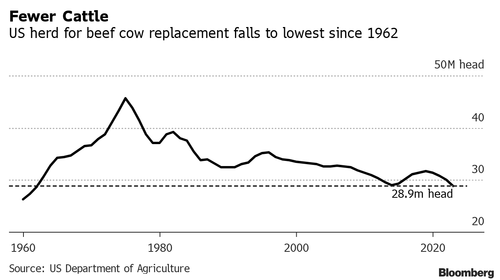 Also, US beef exports are forecasted to slide 14% this year from 2022 to 3 billion pounds, the lowest since the early days of the Covid pandemic when plant closures crushed meatpackers. The USDA warned US beef production is expected to decline further next year.
Last week, Pete Bonds, a Texas-based cattle producer, told Reuters, "The future of this industry is not here in the United States."
Food inflation remains sticky. And soon, beef will be a luxury only the rich can afford. As for the working poor, Tyson plans to build a new insect plant in 2025.
In Case You Missed It:
Watch: UPS Driver Carjacked In 'Grand Theft Auto-Style' Robbery Near DC
The Hidden His-story of Man, Myth, and Deep State – Creation to Covid and Beyond – Abbreviated Vs
For breaking news from one of the most over the target and censored names in the world join our 100% Free newsletter at
Newsletter
, The best way to get the information you want.
Also follow us at Gab
Follow us on Gab.com
, Like, comment, and subscribe.
Telegram
, Join our Telegram chat
Shop Patriot and Detox the Deep State by shopping with our sponsors.
Protect your future with ITM Trading
, If you haven't prepared for the collapse, you're out of time... BUY GOLD and SILVER NOW!
RedPillLiving.com
, Home of Sleepy Joe – the world's most powerful all natural sleep formula and The Great Awakening Gourmet Coffee for Patriots.
TheGreatAwakeningCoffee.com
, Gourmet Coffee for Patriots!
The Serapeum.com
, The Hidden History of Man & The Mystery Babylon Religion of The Deep State.