On Monday morning, Vice Media filed for Chapter 11 bankruptcy in the Southern District of New York and is anticipated to be acquired by its creditors.
The Brooklyn-based media company that once boasted a $5.7 billion valuation listed assets and liabilities between $500 million to $1 billion.
In a separate statement, Vice Media announced the "Lender Consortium," which includes Fortress Investment Group, Soros Fund Management, and Monroe Capital, will purchase the media outlet for approximately $225 million in the form of a credit bid for substantially all of the Company's assets.
We previously noted Fortress Investment Group and Soros Fund Management were interested in purchasing Vice Media out of bankruptcy. This morning's announcement wasn't unexpected, as the bankruptcy filing and eventual sale have been widely anticipated for the past few weeks.
The rapid decline of Vice Media, once valued at $5.7 billion in 2017, serves as a cautionary tale for all news media outlets about going 'woke' because it'll ultimately lead to going broke. Here's a decade of Vice funding and valuations via Axios: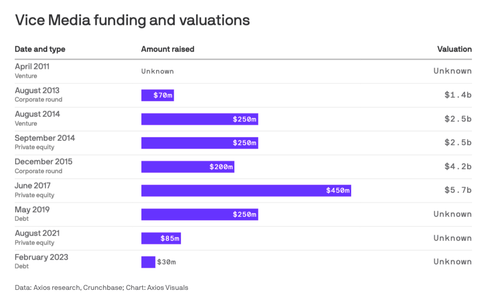 "This accelerated court-supervised sale process will strengthen the Company and position VICE for long-term growth, thereby safeguarding the kind of authentic journalism and content creation that makes VICE such a trusted brand for young people and such a valued partner to brands, agencies and platforms. We will have new ownership, a simplified capital structure and the ability to operate without the legacy liabilities that have been burdening our business. We look forward to completing the sale process in the next two to three months and charting a healthy and successful next chapter at VICE," said VICE's Co-Chief Executive Officers Bruce Dixon and Hozefa Lokhandwala.
In addition to Vice Media, BuzzFeed recently shut down its news operation, as did MTV News. The digital media industry has been experiencing a harsh downturn, with media outlets that embraced woke content forced to reduce headcount, restructure, and or altogether cease operations.
Once the sale of Vice Media is finalized this summer, with new stakeholders like the Soros Fund stepping in, the "authentic journalism" content will probably become even more woke than before.
In Case You Missed It:
RFK Jr. Calls Out Tom Cotton, Neo-Con 'Madness' in Anti-War Tweet
For breaking news from one of the most over the target and censored names in the world join our 100% Free newsletter at
Newsletter
, The best way to get the information you want.
Also follow us at Gab
Follow us on Gab.com
, Like, comment, and subscribe.
Telegram
, Join our Telegram chat
Shop Patriot and Detox the Deep State by shopping with our sponsors.
Protect your future with ITM Trading
, If you haven't prepared for the collapse, you're out of time... BUY GOLD and SILVER NOW!
RedPillLiving.com
, Home of Sleepy Joe – the world's most powerful all natural sleep formula and The Great Awakening Gourmet Coffee for Patriots.
TheGreatAwakeningCoffee.com
, Gourmet Coffee for Patriots!
The Serapeum.com
, The Hidden History of Man & The Mystery Babylon Religion of The Deep State.