Authored by Steve Watson via Summit News,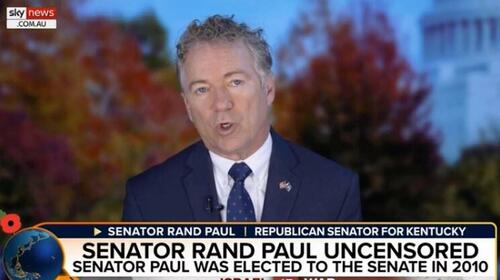 GOP Senator Rand Paul says that he thinks it is difficult to imagine Donald Trump winning another term in office because of the magnitude of everything that is being done by Democrats and the establishment to prevent it happening.
"It's difficult to image Trump winning, but it's also difficult to imagine anything more unfair they could do to him, and also how pitiful the performance of Biden has been, and how frail and detached that he looked in doing his job," Paul said during an interview with Piers Morgan.
"It worries people that he is still able and has enough vim and vigour to actually be the president," Paul continued.
Paul also, somewhat jokingly, said "I haven't endorsed [Trump or anyone else] yet because I haven't decided whether I'm going to run or not."
"I ran in 2016, maybe I should through my hat in, I don't think it's going that well for everybody else," the Senator further stated.
Elsewhere during the interview, Paul urged that the solution to "ugly or despicable" speech is "more speech". 
Morgan had asked Paul about the Anti-Israel demonstrations that threaten to disrupt Remembrance Day events at the weekend in London. Paul responded that countering with better ideas and useful arguments is "much better than banning speech". 
Watch:
In Case You Missed It:
For breaking news from one of the most over the target and censored names in the world join our 100% Free newsletter at
Newsletter
, The best way to get the information you want.
Also follow us at Gab
Follow us on Gab.com
, Like, comment, and subscribe.
Telegram
, Join our Telegram chat
Shop Patriot and Detox the Deep State by shopping with our sponsors.
Protect your future with ITM Trading
, If you haven't prepared for the collapse, you're out of time... BUY GOLD and SILVER NOW!
RedPillLiving.com
, Home of Sleepy Joe – the world's most powerful all natural sleep formula and The Great Awakening Gourmet Coffee for Patriots.
TheGreatAwakeningCoffee.com
, Gourmet Coffee for Patriots!
The Serapeum.com
, The Hidden History of Man & The Mystery Babylon Religion of The Deep State.