In many countries around the world, vast portions of the population do not trust their own government.
Lack of faith in government and politics is nothing new, but, as Visual Capitalist's Nick Routley details below, in times of uncertainty, that lack of trust can coalesce into movements that challenge the authority of ruling parties and even threaten the stability of nations.
This visualization uses data from the Ipsos Global Trustworthiness Monitor to look at how much various populations trust their government and public institutions.
Tracking Trust in Government
Since the beginning of the pandemic, global trust in government has improved by eight percentage points, but that is only a small improvement on an otherwise low score.
At the country level, feelings towards government can vary widely. India, Germany, Netherlands, and Malaysia had the highest government trust levels.
Many of the countries with the lowest levels of trust were located in Latin America. This makes sense, as trust in politicians in this region is almost non-existent. For example, in Colombia, only 4% of the population consider politicians trustworthy. In Argentina, that figure falls to just 3%.
Trust in Public Institutions
Broadly speaking, people trust their public services more than the governments in charge of managing and funding them. This makes sense as civil servants fare much better than politicians and government ministers in trustworthiness.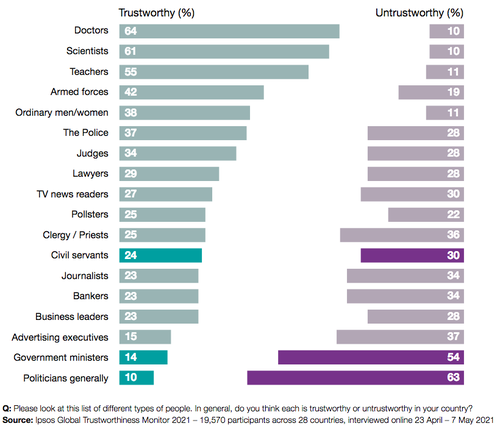 As our main chart demonstrates, there is a correlation between faith in government and trust in public institutions. There are clear "high trust" and "low trust" groupings in the countries included in the polling, but there is also a third group that stands out—the countries that have high trust in public institutions, but not in their government. Leading this group is Japan, which has a stark difference in trust between public services and politicians. There are many factors that explain this difference, such as values, corruption levels, and the reliability of public services in various countries.
While trust scores for government improved slightly during the pandemic, trust in public institutions stayed nearly the same.
In Case You Missed It:
USAF's New Stealth Bomber "Strides Toward Flight Readiness" After Successful Load Test
For breaking news from one of the most over the target and censored names in the world join our 100% Free newsletter at
Also follow us at Gab
Follow us on Gab.com
, Like, comment, and subscribe.
Newsletter
, The best way to get the information you want.
Telegram
, Join our Telegram chat
Shop Patriot and Detox the Deep State by shopping with our sponsors.
RedPillLiving.com
, Home of Sleepy Joe – the world's most powerful all natural sleep formula and The Great Awakening Gourmet Coffee for Patriots.
GreenPillLiving.com
, High Potency Full Spectrum CBD.
TheGreatAwakeningBooks.com
, Censored Books for Patriots.
TheGreatAwakeningCoffee.com
, Gourmet Coffee for Patriots!
The Serapeum.com
, The Hidden History of Man & The Mystery Babylon Religion of The Deep State.