Reported by: Revolver
The regime has kicked into overdrive to prevent Americans from asking legitimate questions regarding Ray Epps' behavior on January 5th and 6th.
Ray Epps, who is the only individual caught on camera repeatedly urging people to go into the Capitol as early as January 5th, just happens to be the only January 6 riot participant about whom the New York Times felt the need to write a highly sympathetic (and indeed highly bizarre) puff piece.
Revolver responded in scathing detail to the New York Times piece in question, pointing out the obvious and central questions the piece would have explored regarding Epps if it were a genuine piece of journalism rather than a janitorial mop up job designed to cover up the smoking gun of the January 6 Fedsurrection.
With the New York Times piece having utterly failed to do its job of damage control, it looks like the next phase in the effort to silence inconvenient discussion about Ray Epps is to flood the zone with false stories regarding Epps, and for the Regime to then use those stories to silence the genuine, legitimate, and critical questions regarding Epps that are making the powers that be sweat "big league."
And sure enough, shortly after Revolver neutralized the Times' damage control attempt, blatant falsehoods regarding Epps began to emerge from various accounts on Twitter, generating a tremendous amount of views and engagement.
The most egregious example is the following tweet
Follow @RetroTechNoir for updates

— Retro Tech Noir (@RetroTechNoir) July 22, 2022
The tweet quickly went viral with over 17k retweets and 36k likes. Twitter is typically very aggressive in throttling exactly this sort of content, in particular from anonymous accounts. In this case, however, Twitter allowed the tweet (was it boosted rather than throttled?) to go mega viral. The Twitter account itself is hardly political, and seems to post mostly retro images from 70s and 80s.
Revolver News' Darren Beattie immediately responded, noting that there is zero evidence for this remarkable claim:
Enticing but there is zero evidence for this claim

Let's not muddy the waters with bullshit https://t.co/48cWC7XqPV

— Darren J. Beattie 🌐 (@DarrenJBeattie) July 23, 2022

Sure enough, another viral tweet emerged purveying false information regarding Ray Epps, this time an unsubstantiated theory that Ray Epps' wife worked for Dominion Voting Systems:
I do not. pic.twitter.com/jECh0O2cOo

— Airiel Hicks (@AirielHicks) July 25, 2022

Again, Beattie responded that there is no evidence for this false claim.
Again, need to be careful about spreading bullshit regarding Epps.

Just like the nonsense story that FOIA requests reveal calls from Epps to Pelosi, there is zero evidence that Dominion Enterprises has anything to do with Dominion Voting Systems https://t.co/tF2SuQr2pZ

— Darren J. Beattie 🌐 (@DarrenJBeattie) July 26, 2022
It is possible that these tweets are from authentic accounts that simply don't bother to engage in the most basic fact checking for their outlandish claims. But in any case, witting or unwitting, such tweets regarding Epps allow the Regime to muddy the water and portray the legitimate questions about Epps in a questionable light.
Indeed, notice how quickly and eagerly the Associated Press seized on the false viral Epps tweet from the anonymous account, going to the length of writing an entire article on it.
CLAIM: Freedom of Information Act requests show a dozen phone calls between Ray Epps' cell phone and House Speaker Nancy Pelosi's office a week before the Capitol insurrection on Jan. 6, 2021.

AP'S ASSESSMENT: False. Such records would not be obtainable through FOIA requests, because Congress is exempt from the law, legal experts say. A spokesperson for Pelosi also confirmed that the claim is false.

THE FACTS: Epps, an Arizona man who was filmed encouraging others to enter the U.S. Capitol the night before the riots, has long been the subject of a baseless conspiracy theory that he is a federal agent who helped orchestrate the insurrection.

There's no evidence to suggest that Epps was anything but a disgruntled supporter of former President Donald Trump, and Epps has testified to the House committee investigating Jan. 6 that he wasn't working for law enforcement. But a new false claim based on the conspiracy still circulated widely on Twitter in recent days.

"Freedom of Information Act requests show a dozen phone calls between the cell phone of Ray Epps and the office of Speaker Pelosi in the week before#January6th," reads the tweet, which was posted on Thursday and has since been retweeted more than 15,000 times. The user, who mostly posts photos of vintage cars, provided no evidence for the claim.

Drew Hammill, a spokesperson for Pelosi, said in an email to The Associated Press that the claim is false. And experts in the Freedom of Information Act — which allows members of the public to request records from federal agencies — confirmed that such information cannot be obtained through a FOIA request.

Congress is not subject to the law, which is limited to the executive branch of the federal government and agencies, experts said.
Epps disinformation curiously pops up and goes viral just days after a failed damage control attempt by the New York Times? Not to fear, the Associated Press is ready to pounce and expose the disinformers! To be fair, the AP didn't do a bad job… and they were only a day slower than Revolver's Darren Beattie.
Adam Kinzinger, who would like nothing more than to see Trump and his supporters behind bars on the pretext of January 6, was quick to chime in on the anonymous Twitter post on Epps.
Republican Rep. Adam Kinzinger, who led questioning in the closing summer hearing of the Jan. 6 committee, tweeted on Friday that the claim was false.

"Take a gander. Absolutely false, literally made up, yet tens of thousands of RT's, This is what democracy is up against," Kinzinger said. "It's time for the uneasy alliance between democracy defending people of all political stripes. #misinformation."
The Regime would like nothing more for ridiculous, unsubstantiated, outlandish claims regarding Epps to take off, go viral, and muddy the waters—giving them easy lay-up "fact checks" that they will deceptively use to discredit the actual questions that threaten to disintegrate the entire fake narrative behind January 6.
Assuming the recent false tweets regarding Epps are some type of black influence op, it is not going to work—we will respond quickly and decisively, and most of the American people (and definitely Revolver readers) are too smart to fall for such tricks.
It is not uncommon for Regime cutouts to deploy bot armies to protect establishment narratives. In a major recent piece, Revolver exposed how a leading "disinformation researcher" actually worked for a group that set up fake Russian social media accounts in order to frame a conservative politician for being "supported by Russians."
Busted: Disinformation Agent Who Attacked Elon Musk's Push for "Free Speech" Caught Red-Handed in Secret Influence Operation https://t.co/nABvu5Aebo

— Jack Posobiec 🇺🇸 (@JackPosobiec) May 23, 2022

In yet another piece, we exposed how disgraced head of the now-defunct Disinformation Governance Board Nina Jankowicz' name appeared in leaked documents for the Integrity Initiative, a NATO and US State Department funded NGO that engaged in top secret influence campaigns to meddle in democratic processes of various NATO countries.
Busted: Biden's "Minster of Truth" Nina Jankowicz Participated in Secret NATO-Funded Cabal to Subvert Western Democracies Using Disinformation as Cover@RevolverNewsUSA

–@DarrenJBeattie https://t.co/1jN9vScvPF

— Benny Johnson (@bennyjohnson) May 18, 2022
If the recent false Epps tweets are genuine mistakes, then they serve an important reminder to be careful, responsible, and do basic research before believing or spreading information—especially on a topic such as Epps, which the Feds are frothing at the mouth to censor.
The truth is, the reality is far more scandalous than any fake tweet regarding January 6. And the reality is on video tape, free for the whole world to see, no matter how desperate the Regime is to prevent the true story of January 6th from getting out.
This is the only Jan 6 participant Adam Kinzinger will defend!

Still not arrested… pic.twitter.com/v7nOggQUID

— Darren J. Beattie 🌐 (@DarrenJBeattie) June 9, 2022

Lastly, may we all approach our mission in life with Ray Epps' focus:
"Our enemy is the Capitol"

This guy Epps REALLY hates neoclassical architecture! pic.twitter.com/g5L4VrTc2C

— Darren J. Beattie 🌐 (@DarrenJBeattie) July 21, 2022

And may we all confront doubters and obstacles in life with Ray Epps' confidence:
LOL at Epps' response when a hater doubts him pic.twitter.com/kcHR9JAhz5

— Darren J. Beattie 🌐 (@DarrenJBeattie) July 21, 2022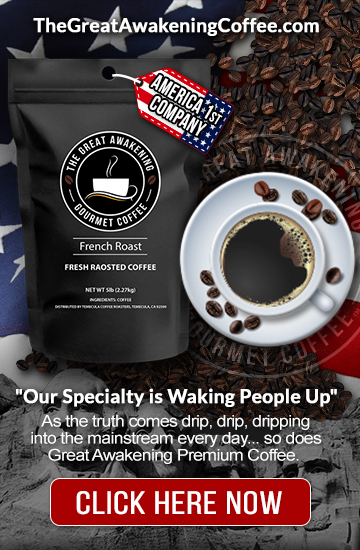 In Case You Missed It:
(VIDEO) "Do You Guys Call Joe Biden 'The Big Guy' at the Department of Justice?" – Matt Gaetz GRILLS Senior DOJ Official About Whistleblower Allegations
Evidence Uncovered that Election County Clerk in New Mexico Falsified Pre-Election Machine Certification Records
For breaking news from one of the most over the target and censored names in the world join our 100% Free newsletter at
Also follow us at Gab
Follow us on Gab.com
, Like, comment, and subscribe.
Newsletter
, The best way to get the information you want.
Telegram
, Join our Telegram chat
Shop Patriot and Detox the Deep State by shopping with our sponsors.
RedPillLiving.com
, Home of Sleepy Joe – the world's most powerful all natural sleep formula and The Great Awakening Gourmet Coffee for Patriots.
GreenPillLiving.com
, High Potency Full Spectrum CBD.
TheGreatAwakeningBooks.com
, Censored Books for Patriots.
TheGreatAwakeningCoffee.com
, Gourmet Coffee for Patriots!
The Serapeum.com
, The Hidden History of Man & The Mystery Babylon Religion of The Deep State.