Reported by: The Star News Network
Arizona's Sheriff Mark Lamb of Pinal County has been outspoken about taking action on the local level when the Biden administration will not, recently starting the Protect America Now (PAN) to bring sheriffs together with patriotic Americans on important issues like border security. This past month, he formed a coalition with the election integrity organization True the Vote to ensure secure elections, ProtectAmerica.Vote.
"Sheriffs' primary duty is to protect the rights of their constituents, which includes their rights as voters," he said on the website. "ProtectAmerica.vote aims to solve this problem and bridge the gap between voters and local law enforcement. Our work will ensure we have secure elections in this country."
Along with Catherine Engelbrecht of True the Vote, who uncovered what alleged evidence of unlawful ballot drop box stuffing during the 2020 presidential election, featured in the movie 2,000 Mules, he laid out three priorities. First, they will empower sheriffs by providing them "with the training, resources and tools to have real-time eyes on voting in their county."
Second, they are starting a national campaign on August 1 "to educate voters state-by-state on what they can and can't do at the ballot box." There will be press conferences with sheriffs in key states, and outreach through television, radio, and online ads.
Third, a National Election Integrity Voter Hotline will be launched on August 1 for voters "to report suspicious activity at any voting center or drop box."
There is a form on the website for people to connect with their local sheriff, or they can nominate him or her to join ProtectAmerica.Vote. ProjectAmerica.Vote aims to get 2,500 sheriffs to join.
Engelbrecht stated in the launch video on the website, "Our mission at True the Vote is to restore America's confidence in the electoral process through the power of citizen engagement." She went on, "Voters want to be helpful but aren't sure where to turn in times of trouble." Lamb added, "Where necessary, sheriffs can and will investigate if laws are being broken."
Engelbrecht observed that sheriffs have the power to arrest federal agents who may be thwarting the process of election integrity. Interested patriots are encouraged to sign up for their email updates.
Lamb's PAN, which was founded in February 2021, has 69 sheriffs, with an advisory committee composed of Lamb and six other sheriffs. PAN sends letters opposing nominees for federal law enforcement positions who are anti-Second Amendment and support open borders. Its mission is to "build a coalition of patriots." PAN states, "Protect America Now is committed to breaking through the 'Fake News' and educating Americans about how our Sheriffs and the law enforcement community are standing for our Constitution and law and order."
Lamb became a favorite of patriots in part for refusing to mandate the COVID-19 vaccine for his deputies, refusing to enforce mask mandates, and refusing to enforce Gov. Doug Ducey's stay-at-home order. He set up a sheriff's posse during the summer of 2020 to deal with violent protesters. Lamb can be frequently seen on Fox News where he is unafraid of pointing out the failures of the Biden administration.
Engelbrecht, considered one of the leading experts in the country on voter fraud, was targeted by the IRS during the Obama administration in retaliation. She and her husband were also investigated by the Federal Bureau of Investigation (FBI), the Bureau of Alcohol, Tobacco, Firearms and Explosives (ATF), and the Occupational Safety and Health Administration (OSHA).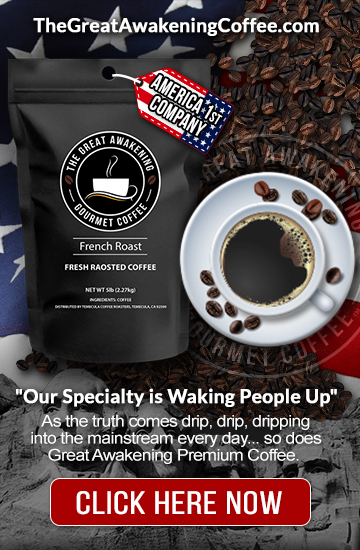 In Case You Missed It:
20 states are using legislation to ban 'Zuck Bucks' from elections
Pfizer Asks Court to Dismiss Whistleblower Lawsuit Because Government Was Aware of Fraud
For breaking news from one of the most over the target and censored names in the world join our 100% Free newsletter at
Also follow us at Gab
Follow us on Gab.com
, Like, comment, and subscribe.
Newsletter
, The best way to get the information you want.
Telegram
, Join our Telegram chat
Shop Patriot and Detox the Deep State by shopping with our sponsors.
RedPillLiving.com
, Home of Sleepy Joe – the world's most powerful all natural sleep formula and The Great Awakening Gourmet Coffee for Patriots.
GreenPillLiving.com
, High Potency Full Spectrum CBD.
TheGreatAwakeningBooks.com
, Censored Books for Patriots.
TheGreatAwakeningCoffee.com
, Gourmet Coffee for Patriots!
The Serapeum.com
, The Hidden History of Man & The Mystery Babylon Religion of The Deep State.